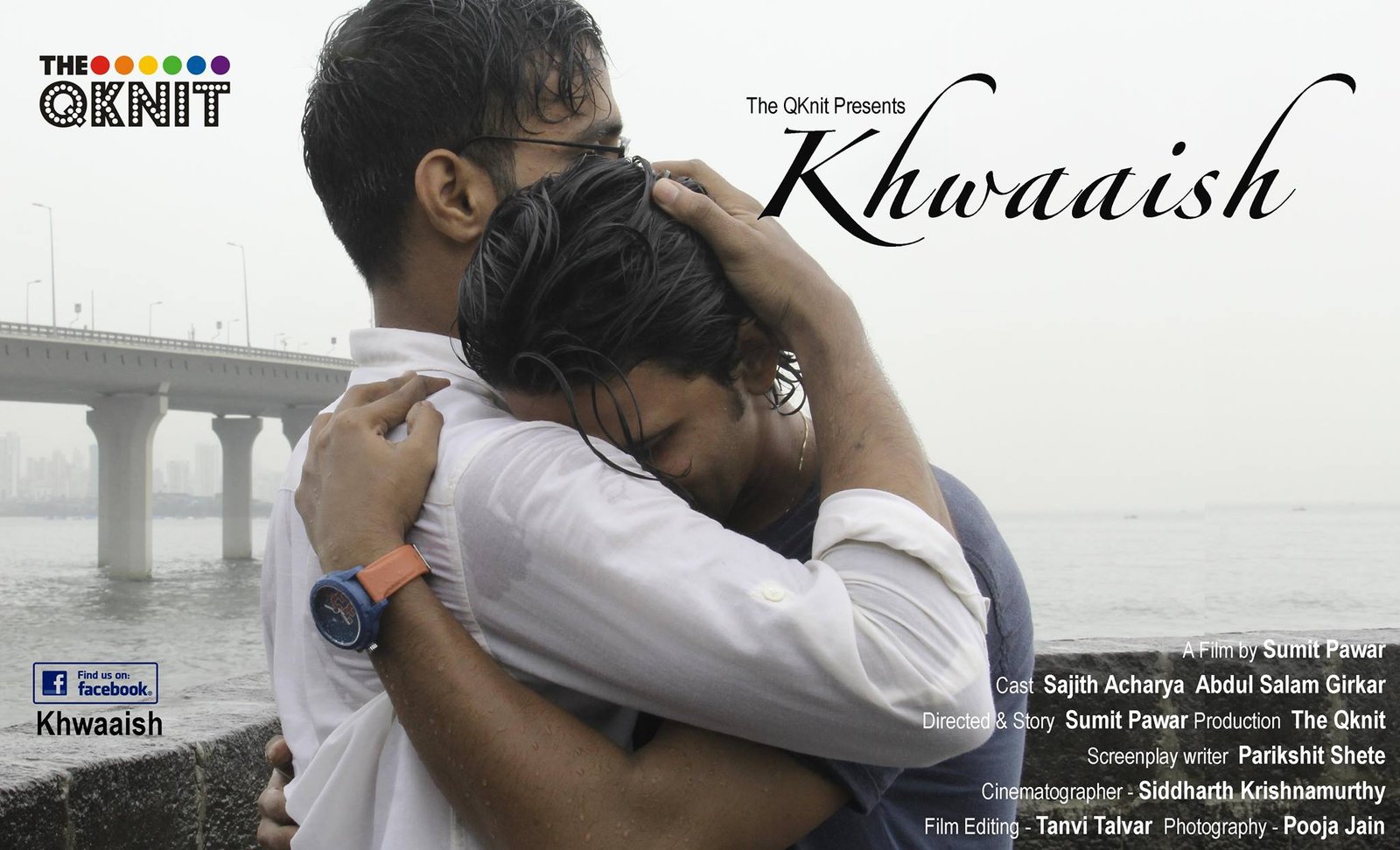 Khwaaish
---
Khwaaish or desire is an Indian LGBTQIA+ themed short film that seeks to show a glimpse of the life of a young middle-aged guy's desire to find a same-sex companion in a city that continues to refuse public acceptance of alternate sexualities.  Set in the busy streets of the megacity, Mumbai, the young protagonist ventures out in pursuit of love as he walks through the by-lanes and travels in the local trains till he reaches Marine Drive for a breath of fresh air.  There, he meets an interesting looking guy he feels attracted to, the both of them have a small exchange of conversations and instantly become friends.  The film shows the deep connection between the protagonist and his new friend as they exchange affection, chocolates, and feelings of intimacy.  By the end of the film, he realises that it was just a dream and that his efforts of being with him have shattered just like the glass window pane and decides to move on with his life as the camera fades away.
Cast and Crew
---
Cast
[tc-team-members teamid="1225″]
Crew
Official Selection
---
2018: Queer and Allied Arts Festival (QAAF), Hyderabad, Bangalore, and Pune
2018: 9th KASHISH Mumbai International Queer Film Festival (MIQFF).
2018: OUT AND LOUD Pune International Queer Film Festival.
Accolades
| | | | | | |
| --- | --- | --- | --- | --- | --- |
| Sr. No. | Film Festival / Festival | Screening Date | Country/ City | Award | Remarks |
| 1 | Out & Loud Pune Interenational Queer Film Festival 2018 | 6 April 2018 | India/Pune | Best Silent Film | World Premiere |
| 2 | Kashish Mumbai International Queer Film Festival 2018 | 26 May 2018 | India/Mumbai | | Mumbai Premiere |
| 3 | Queer & Allies Art Festival 2018 (Hyderabad) | 10 June 2018 | India/Hyderabad | | Hyderabad Premiere |
| 4 | Queer & Allies Art Festival 2018 (Banglore) | 18 August 2018 | India/Banglore | | Banglore Premiere |
| 5 | Special Screening at Goverment Law College | 23 August 2018 | India/Mumbai | | |
| 6 | Hong Kong Lesbian and Gay Film Festival 2018 | 21 September 2018 | Hong Kong | | Hong Kong Premiere |
| 7 | Queer & Allies Art Festival 2018 (Pune) | 21 October 2018 | India/Pune | | |
| 8 | Brixton Reel Film Festival London | 13 November 2018 | UK/London | | London Premiere |
| 9 | Tarang Delhi International Queer Theatre and Film Festival 2018 | 2 December 2018 | India/Delhi | | Delhi Premiere |
| 10 | Special Screening at Hungary | 17 December 2018 | Hungary/Budapest | | Hungary Premiere |
| 11 | Best of Kashish Film Screening 2019 | 16 January 2019 | India/Mumbai | | |
| 12 | Kashish Chalchitra Utsav 2019 | 20 January 2019 | India/Mumbai | | |
| 13 | Garv Ustav Chandigarh 2019 | 28 February 2019 | India/Chandigarh | | Chandigarh Premiere |
| 14 | Special Screening for Dalmia College Staff | 1 March 2019 | India/Mumbai | | |
| 15 | REINCARNATE II Regional Art and Film Festival | 28 March 2019 | Bangladesh/Dhaka | | Bangladesh Premiere |
| 16 | Blued Queer Flicks 2019 | 7 June 2019 | India/Delhi | Winner | |
| 17 | London Indian Film Festival 2019 | 28 June 2019 | UK/London | | |
| 18 | Reel Desires Chennai International Queer Film Festival 2019 | 4 August 2019 | India/Chennai | | Chennai Premiere |