Qvents and Pink People have planned a series of events which focus on LGBTQIA+ community sensitisation.  Through collaborative partnerships, this initiative aims to provide a new range of events in Chennai.
Events are as follows:
June 2nd: கவளம்(Kavalam)- Old age home visit.
A visit to KIRUBAI TRUST on the 2nd of June 2018 for a movie screening, lunch and sharing of memories with the wonderful souls who reside there.
Ddonations and contributions open to provide lunch.
Address:
KIRUBAI TRUST
599, Dr. Varaprasath Nagar, Amman kovil 4th cross street, Nedukundram
(Behind Vandalur Zoo)
Chennai- 600 127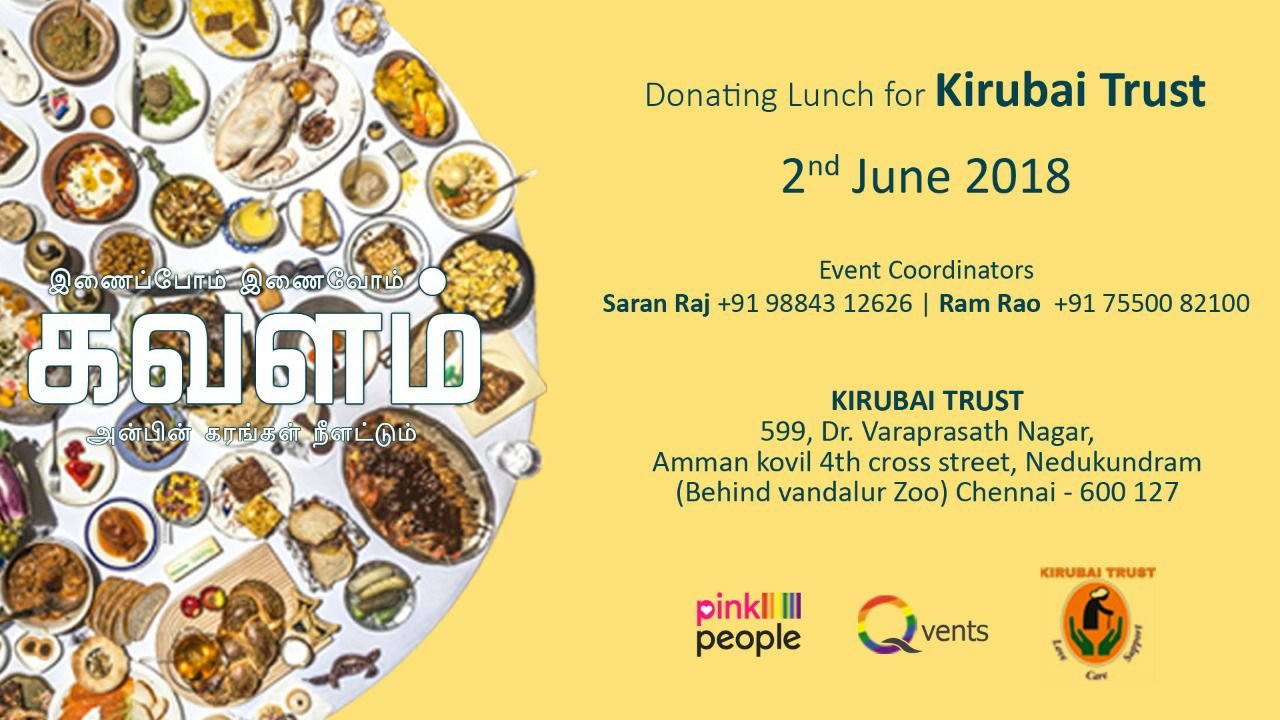 ---
June 3rd: Potluck Lunch.
---
June 9th: Group discussion With Atheist Republic on Tamil Culture and LGBTQ.
An open discussion to explore ideas, ideologies and culture of different spectrums.
The discussion will be bilingual (English and Tamil).
Address: Madras Dance Arts, Sahas embassy, 2nd floor Above nithya amirtham sweets, 131/145, Nelson Manickam Rd, Railway Colony, Aminjikarai, Chennai, Tamil Nadu 600029
Doors Open 5.00pm | Discussion 5.30pm | Entry free
---
June 10th: Stories That Remain Untold (Living Stories/books)
"What do you do as a 'reader'?
1) Bring your sweet self to Backyard on the 10th of June from 12 noon to 6pm.
2) Get your library card for 4 slots, four slot of fifteen minutes, one hour in total and four different and vibrant books.
3) Listen to the multitude of stories and ideas they have to offer.
4) Ask them questions if you wish, please do understand there could be some touchy topics in that case respect their opinion.
5) Walk away with a wide range of ideas, a clear idea of how acceptance and tolerance does not cost millions and lesser judgements.
To attend the event as a reader. Ticket: INR 100 which entitles you for 4 slots of 15 mins with one book. If you would like to read more books get a discounted library card from the librarian.
To note: This is a non-profit event. All funds raised through the this event goes to booking the venue, designing book cover and a whole lot of food for the librarian. Sorry, we are poor.
For details contact:
Jabez Kelly +91 739 735 9007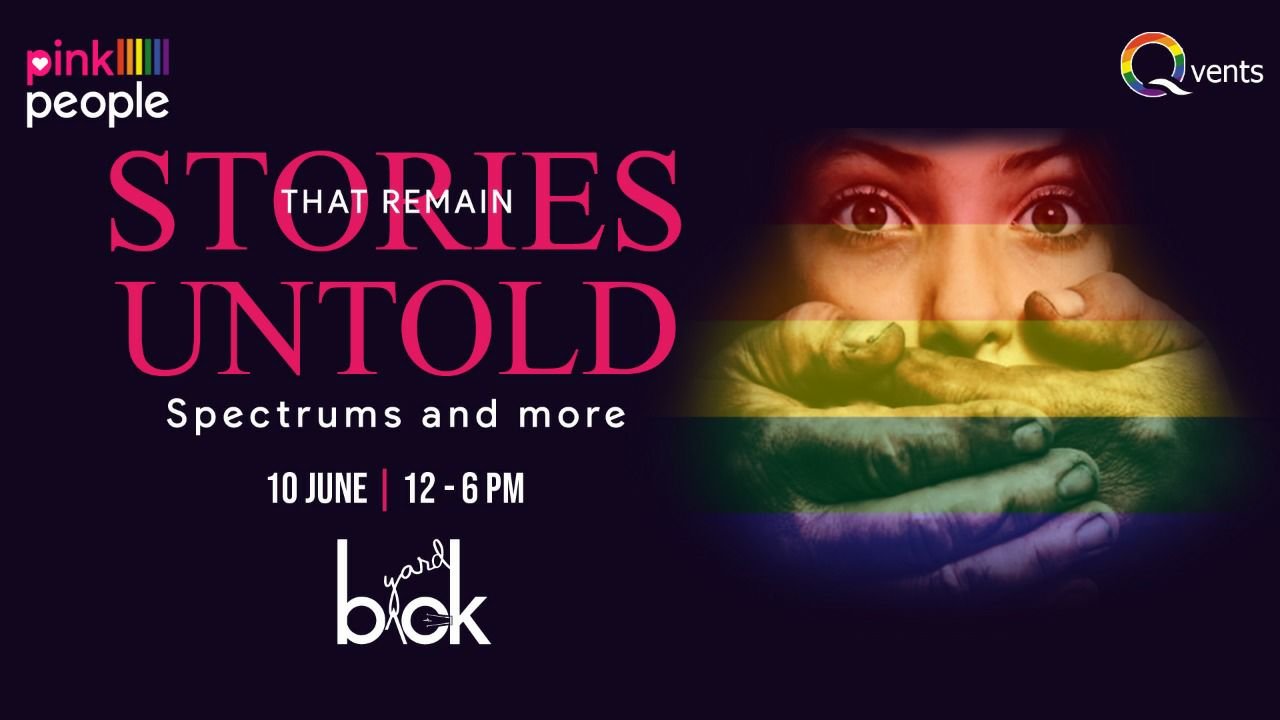 ---
June 16th: World Environment Day Celebrations with Greenpeace
Qvents and Pink People in association with Greenpeace is organising "World environment month celebrations" on the 16th of June. We will be gathering to make 'seedballs'. We will also have a small documentary screening followed by a pot luck.
You are cordially invited to join us to celebrate World Environment Month and offer your part to the environment.
Address: Direct Dialogue Initiatives India Pvt Ltd
24/12 & 24/13, 4th floor, Parishad Apartments, 24, Dr. B.N. road, SuperStore, T Nagar, Chennai, Tamil Nadu 600017 (Landmark On top of Dhanyam Organic)
RSVP:
Jabez Kelly +917397359007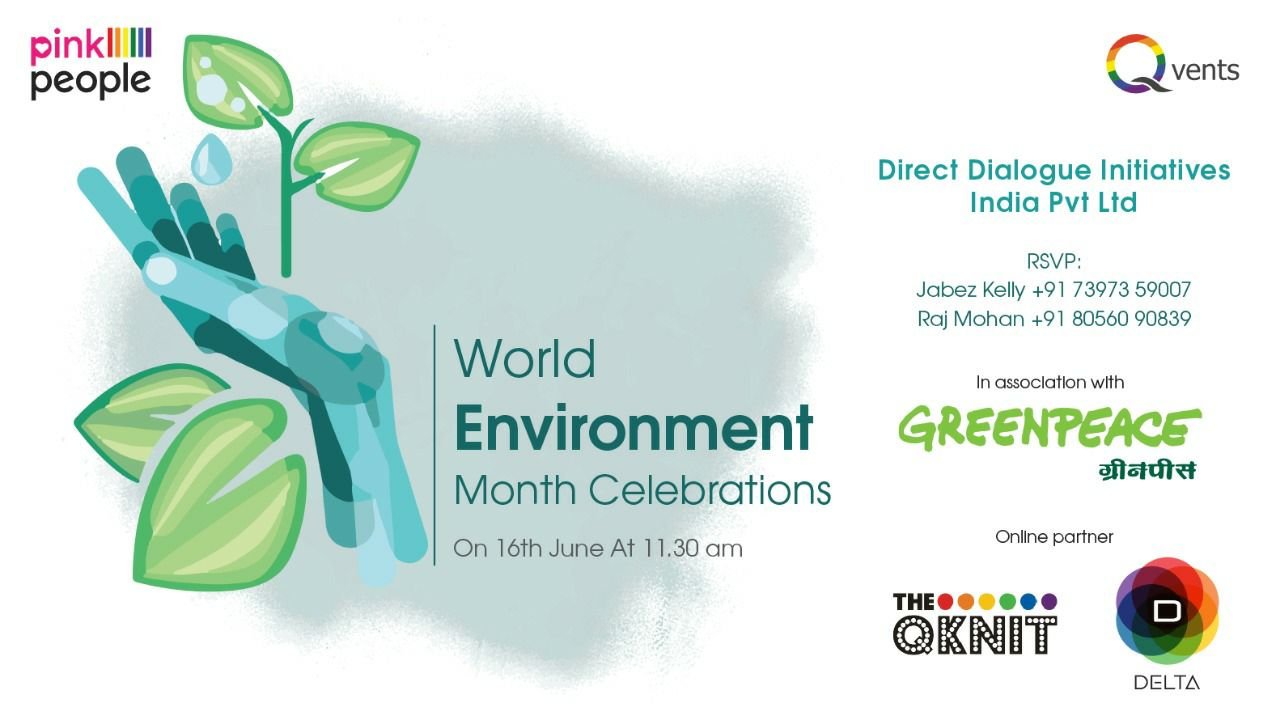 ---
June 17th: Movie screening with Madras Film Screening Club.