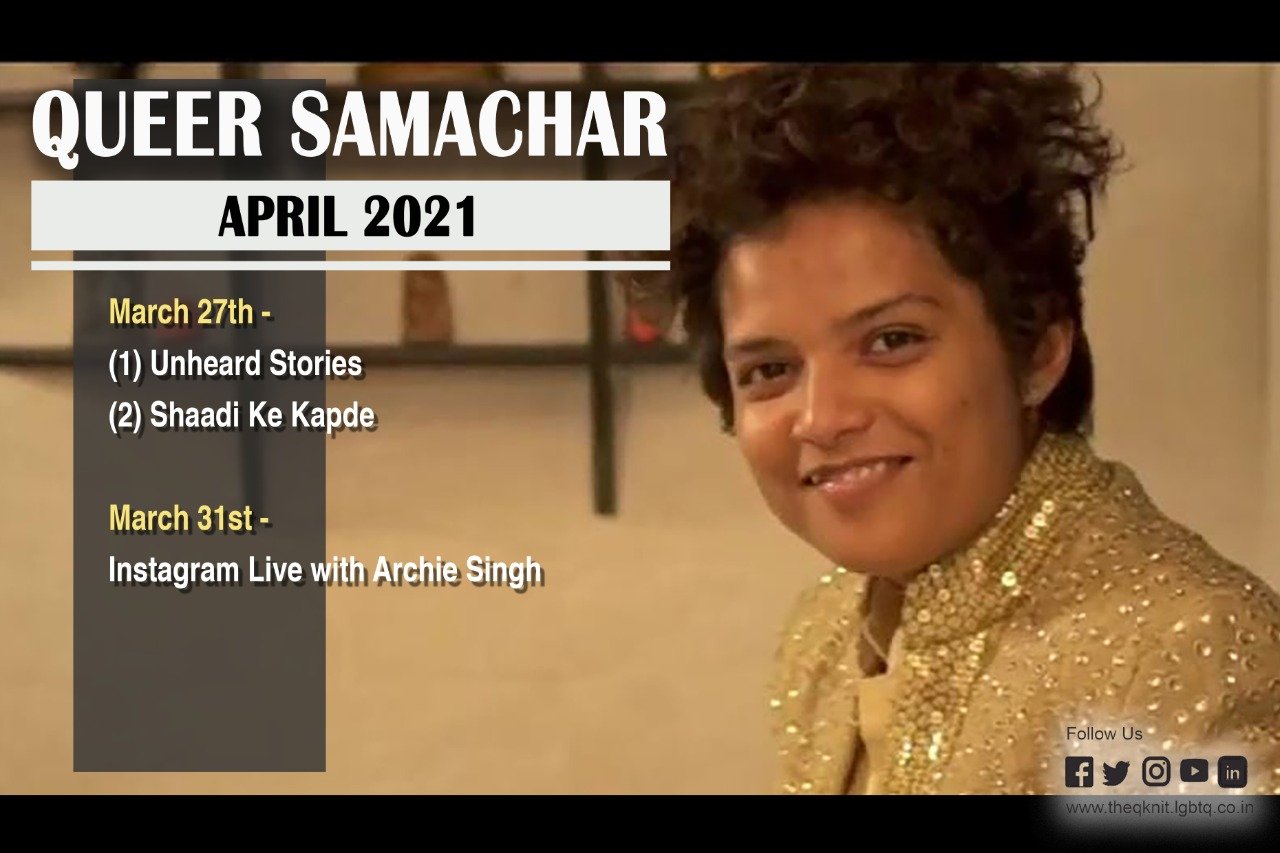 A lot of things changed with the dawn of the new normal, only 3 months into 2021 The QKnit and its followers are becoming more connected with each other in exciting ways.
We are thrilled to give you our March month's capsule with impressive line up of virtual events that are sure to be worth your while.
For the past years, The QKnit has been on a mission to tell the stories of joy, strength, accomplishments, unforeseen challenges of LGBT+ community and giving them a platform to shape the narrative of their lives through various events offline and online.
In addition, this time we came up with our upcoming film titled 'Vaidya', directed by Mr. Sumit Pawar, produced and written by Harsh Agarwal. The film narrates the story of Kabir, a regular corporate guy on a solo trip to Goa, meeting a mysterious boy Vaidya on a beach and what unfolds ahead. In the lead cast, the film features Ronit Agarwal as Vaidya and Puneet Kumar Mishra as Kabir. Director Mr. Sumit Pawar said, "When Harsh came to me with the idea of Vaidya, I was instantly ready to do it. The concept was fresh and unique, and the screenplay was tight. We were lucky to have assembled a great crew eventually and had a fun shoot in Goa."
Producer Harsh said, "We are talking to various OTT platforms at the moment and looking at the various film festivals at the same time to decide on the best medium to release the film and make it available for people to watch." You can look forward to watch this film when it will be released and we hope you all will show your love and support to our film.
March 27th : Saturday Movie Night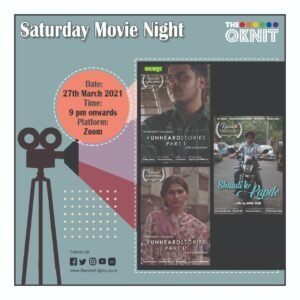 Live from The QKnit, it's Saturday Movie Night! To make your Saturday night more relaxed we came up with the gourmet movies to serve your soul. Whether you are in your funky pajamas or in night suits, you just have to sit back, chill to watch the movies. A Public Speaker, an Activist, Diversity and Inclusion trainer and a Filmmaker – Sonal Giani is a Diversity and Inclusion champion who advocates for LGBT+ rights through multiple mediums and dons many hats. She had also co-founded one of India's largest LGBT+ youth initiatives Yaariyan and Umang, a lesbian-bisexual-transgender initiative in Mumbai. Her three extraordinary movies namely Unheard Stories Part 1 and 2, and Shaadi ke Kapde was screened on our Zoom platform in March month's Saturday Movie Night.
(1) 'Unheard Stories' is a compilation of six stories of transpersons from Delhi, Mumbai and Bangalore. The shorts cover a range of issues about trans lives in contemporary India. We screened part 1 and 2 from it.
(2) 'Shaadi Ke Kapde,' a short film speaks to us on themes of acceptance, homophobia, and transmen – the often invisibilized group within the LGBTQ+ community.
March 31st : Instagram Live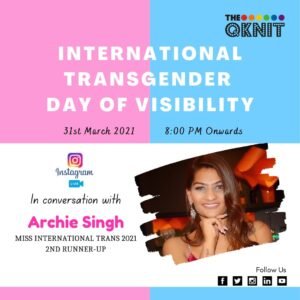 For many, identity makes them feel secure as it gives a sense of freedom. Archie Singh made India and the entire Indian trans community proud by becoming the first Indian transwoman to win 2nd Runner Up at Miss International Trans 2021 held in Colombia, South America. "I am blessed and proud that now I can be a reason to work more towards equality and my community. I feel the journey has begun and there's a lot of people to encourage, educate to and work for to make this world a better place," she says on her second runner up win. To give you all an insight of her thoughts, to know her more and most importantly to learn from her, we had our Instagram Live session with Archie Singh, hosted by Rajesh where we deliberated on several themes that are driving conversations and policies today, including transgender visibility day which is been celebrated on March 31st every year.
It's been an exhilarating month for all of us, as they say – that one of the biggest learnings has been that when you enter the playground it's not about hitting fours and sixes but of making sure you enjoy the activities in the playground.
We thank you for your unconditional love. Let's make our LGBT+ community impactful by being helpful towards each other for the world to witness.