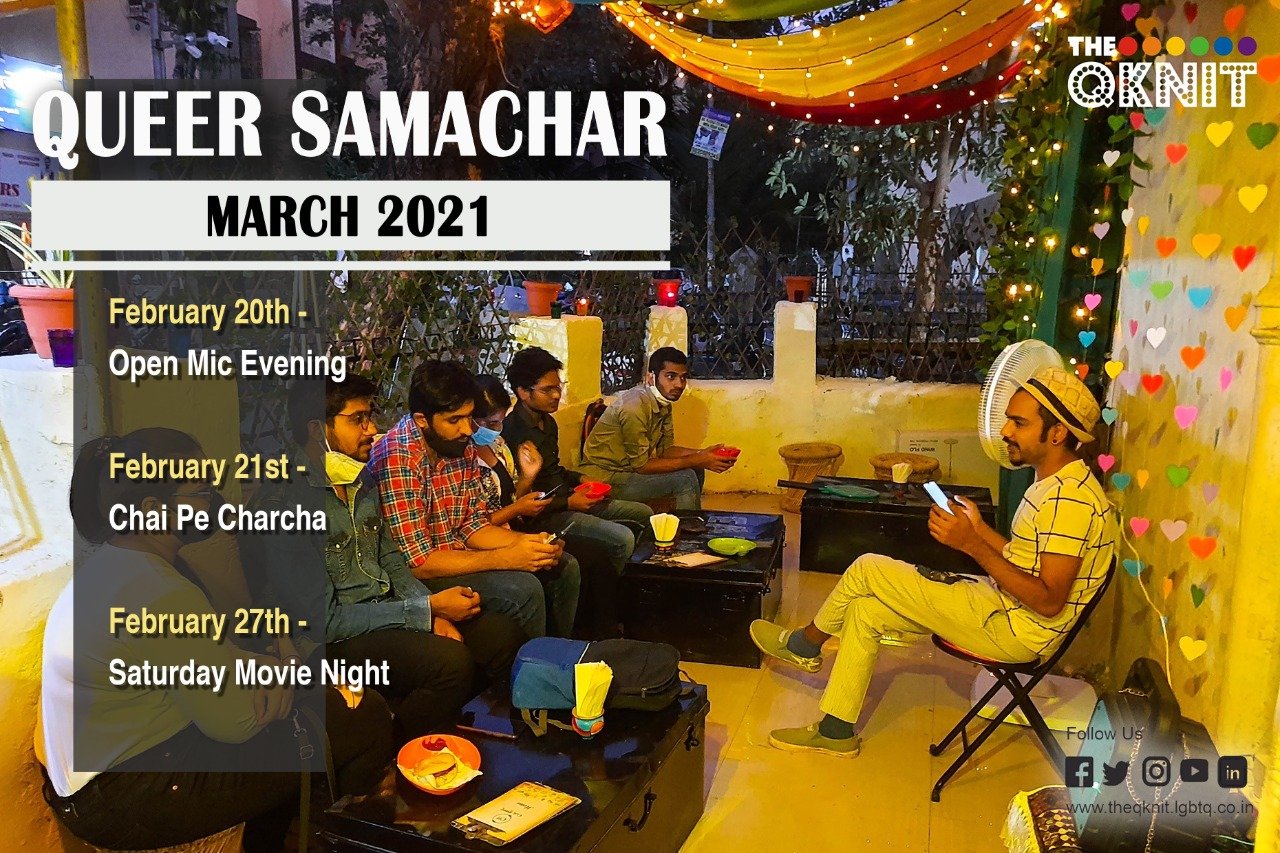 The moment you all have been waiting for has finally arrived. Yes! it is our monthly bulletin where we provide you with key takeaways from the events which we did successfully.
As Phil Jackson rightly said, "The strength of the team is each individual member. The strength of each member is the team."
We as a team put together various interesting events for you every month to make a mark to get connected to the LGBT+ community and its allies. Here it is for February month-
Feb 20th: Open Mic Evening
Hosted by our charismatic Navel, Open Mic was filled with artistic pursuits which took the audience to the journey of different artists who participated in the event through their poems, real-life stories and experiences, songs and jokes. There was sure a lot to learn from them.
The audience were co-operative with the rules of wearing masks throughout the event. 'Showcase your true potential' – said the Welcome Slate and so did the artists with their respective performances!
Feb 21st: Chai pe Charcha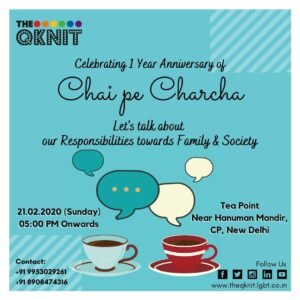 We celebrated the first anniversary of 'Chai Pe Charcha'. It was the perfect opportunity for The QKnit to show our love and affection towards our well wishers and attendees. We celebrated the incredible journey in New Delhi, the same place where Chai Pe Charcha first started.
The topic discussed for the month was "Our responsibility towards our family and society," as a community. It was a fruitful event, and a safe one as well. As required by the norms, we asked people to avoid the event if going through some cold related health issues. It was imperative for all the attendees to wear a mask during the event as a precautionary measure to help prevent the spread of coronavirus. For this we thank you for your understanding, patience and co-operation.
Feb 27th: Catch The Light
What is a Saturday Movie night without our lovely viewers anyways? One of our favorite things to do is to organize a movie night and watch it together. There is something so magical about watching a movie with friends even if it is on Zoom. It is a great alternative from going to the theatres during a pandemic, and much more fun in our opinion!
Catch The Light – is a film produced by KASHISH Arts Foundation with support from Lotus Visual Productions as part of KASHISH QDrishti Film Grant 2018. Directed by Siddharth Chauhan, the film tells a story of a visually impaired young girl who is busy exploring her identity and freedom in the lonely suburbs of a quaint hill station.
Sensing that her dead mother is probably trying to communicate with her, she follows her intuitive thoughts. We are thankful to Siddharth and Neeraj for joining the screening and answering the Q & A with the viewers.
That's it for this time around!
Do take out your time and join The QKnit's social media platforms like Instagram, Facebook and Twitter.
Show your love to us as we celebrate the joy of being true to oneself and make the world as a queer normative space through our inclusive events.
It is our invitation to you for a vibrant tomorrow, one that honors the rainbow of gender and sexual expression.