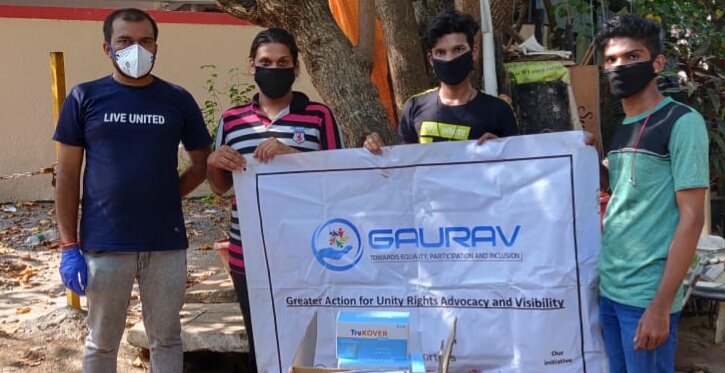 In the ancient days of early 2020, our lives were normal. We lived in a World like a bird, free to fly wherever we want. Drastically our lives got caged in the view of Corona Virus also known as COVID-19. Sometimes it feels like I am in a World War where the common enemy of all nations is Corona Virus. Speaking of my nation which is India, has climbed to the fourth rank globally on a daily increase in COVID-19 cases according to Union Health Ministry of India. "This pandemic has been hard on some but harder on many".
We are in lockdown phase 4.0 where for all of us, 'survival' is the top priority. The pandemic has thrown a collective challenge to many families, labourers, daily wage earners, health line workers, policemen….. the list is long.
I was wondering, with so many deaths and pandemic around, is gratitude even relevant in the current environment?
I got my answer when I came to know about compassionate Mr Shailesh Bhutka, who is a professional social worker and works as a coordinator at United Way Mumbai, a non-profit organization which deeply works for the meaningful change in the social sector helping many families, construction workers and tribal people with ration kits, frontline health workers of COVID-19 designated hospitals with PPE Kits, N95 masks, three-ply masks, face shields, Nitrile gloves, sanitizers and sanitizer dispensers in Mumbai, New Delhi, Bengaluru, Indore and other different places with the donation support of Corporate Giants and Individuals. This reminds me of Helen Keller's quote saying- "Alone we can do so little, together we can do so much".
Mr Shailesh Bhutka who is passionate about social work since his college days and till today is currently living away from his family in a hotel for the past one and a half month now for safety purpose as he visits COVID-19 appointed hospitals to provide them protective equipment & other necessary resources to control the spread of the virus. Being selfless during this dangerous time where chances of getting infected by coronavirus are high needs a lot of strength.
Being from LGBT+ community Mr. Bhutka has also reached to Gaurav CBO to supply healthcare appliances like three-ply masks for the safety of the LGBT+ group and also to AIDS Health care Foundation (AHF) who caters to People Living With HIV/AIDS (PLHIV) group. Every day Mr Bhutka and his wonderful team are making progress in reaching out to people during these tough circumstances.
Therefore, gratitude can take many forms of sharing food, time, kindness, ideas, attention with those who are deprived of these and will make a difference in their lives. Research tells us that gratitude can boost our immune system. Who would not want that now?
I'm hoping that this article finds you well under our current difficult situation. My heart goes out to those of you who have family members, friends, relatives who are sick.
Please visit United Way Mumbai website for the detailed information about Mr Shailesh Bhutka and his team's incredible social work.
Written by: Ali Nawaz