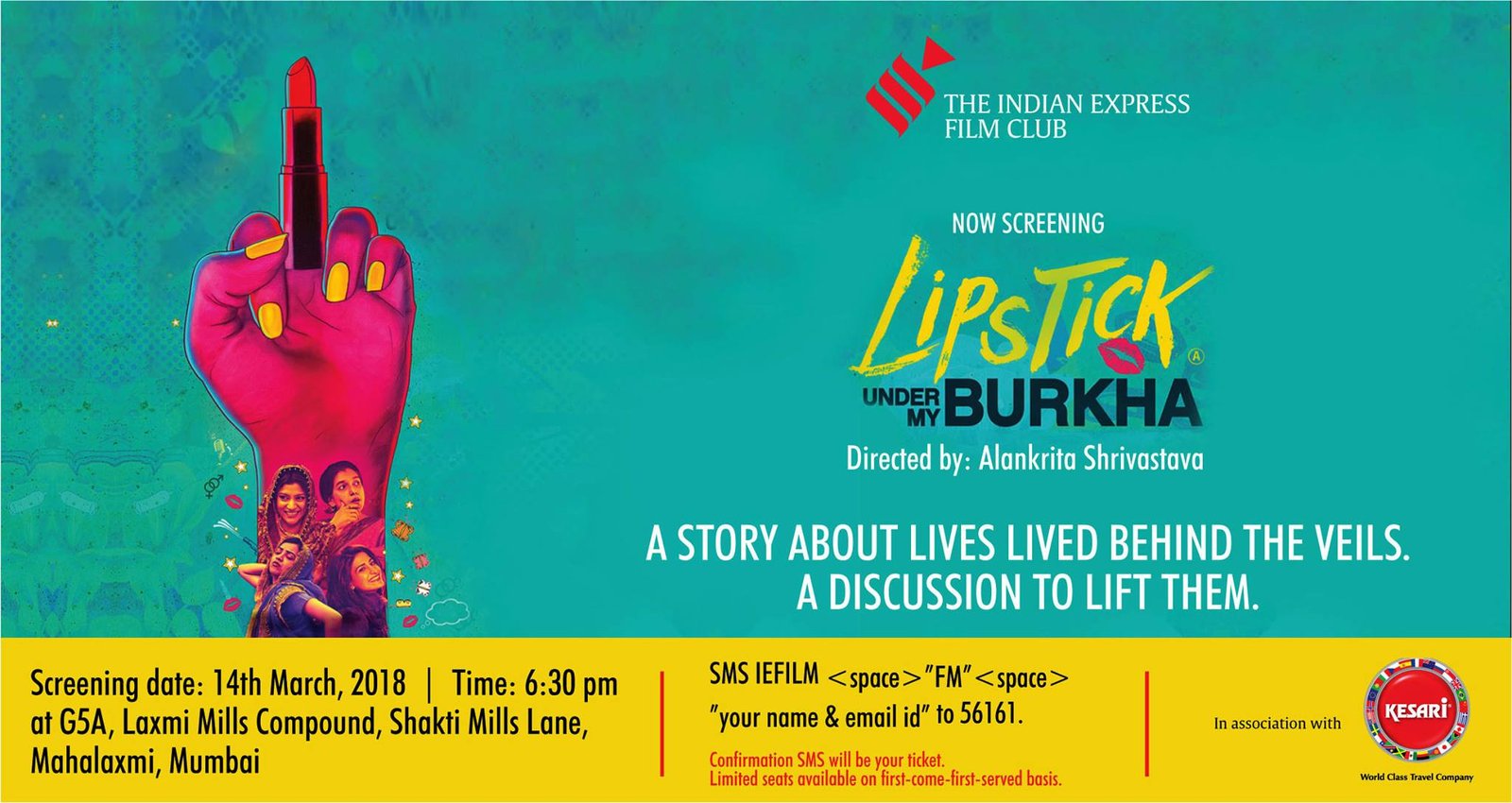 On March 14, 2018, The QKnit attended a screening of the movie 'Lipstick Under My Burkha' organised by the Indian Express Film Club at the G5A Foundation for Contemporary Culture in association with Kesari Tours and Travels. Directed by Alankrita Shrivastava and produced by Prakash Jha, the critically acclaimed film depicts the lives of four women protagonists who are caged within the prescribed gender norms of society. It also highlights their attempt at eloping from the boundaries marked by patriarchy and shows courage to live a life they wish to.
Following the movie screening, the Indian Express Film Club team engaged in a discussion with the audience. Some of the key takeaways from the discussion are below:
The viewers gave their insights on various aspects like women empowerment, power relations, patriarchy and years of systemic oppression of women, freedom of speech and expression, female sexual desires and needs, marital rape, consensual sex, etc.
Some of the viewers, perhaps those who felt uncomfortable by the content, expressed the moral code of conduct prescribed by the Vedic scriptures and criticised the lead characters for their so-called 'immoral' behaviour.
This exposes the inherent patriarchy and sexism deeply rooted in attitude and mindset.
A majority of the audience mostly young people and women criticised the arguments based on the Vedas by saying that texts were written by men to serve a particular purpose, to conveniently suit the needs of men, and to retain positions of power (male preference, purity and pollution, transfer of material resources from father to son, and so on).
Some said that the old woman (played by Ratna Pathak) should not have engaged intimately (sex-talking) with the young man (swimming trainer) as it shows her in extremely bad light especially because she is old and a widow. "Although she has the freedom, she should have had the wisdom to choose between what is right and wrong.", is something that viewers comments. However, others emphasised that even the trainer could have stopped entertaining conversations and that wisdom applies to everyone!
Because, hey! If a man does it, it is fine because boys will be boys, but if a woman does it, it is an act of shame?
Many people criticised the film for being shot in the old city of Bhopal, a conservative space that is riddled by morals, customs, an tradition. Few people were of the opinion that there is a huge difference between the amount of expressing desires by women in Tier 1 cities and Tier 2 cities.
One of the viewers (a father) pointed out the unnecessarily need to express love, lust, or sexual desire. "If boys and men don't express it out and loud, why should women?"
Because, hey! Patriarchy and male privilege decide who should express and who should not, and that's ok!  Besides, if men claim that they do not sexually express themselves out and loud, there would not be cases of public indecency, masturbation, sexual assault, and rape. Furthermore, if men claim to not be expressive and vocal, should they stop women from expressing too?
At the end of the discussion there was a consensus that the women ought to have equal rights as men and the society should take a collective efforts to change the attitude. While we like to wait for someone in the society to start a change, we forget that we are part of the society and we have the power to create change!
Author: Apurva Paithane