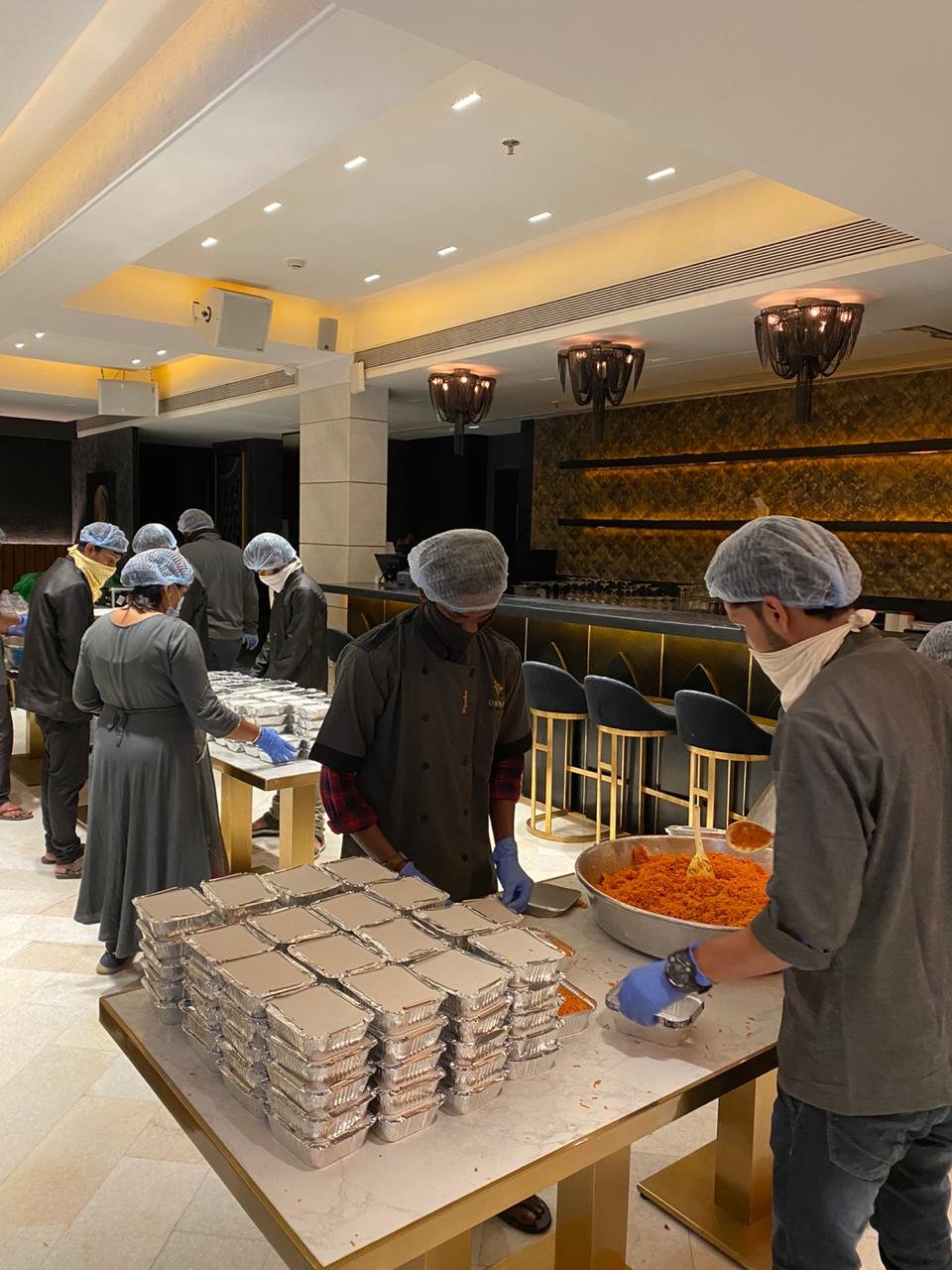 Since all this unlocking thing started I'm having a twin peaks experience. On some news platform, they say the virus curve is going downwards and others say it is going upwards. But in reality, what is visible to us even we are sequestered in this pandemic is deadliest than the virus. I'm talking about 'hunger'. Millions of people are undernourished in India. Hundreds of children die every day from hunger or hunger-related diseases. We have the largest undernourished population in the world. I don't see much news channels discussing this massive problem. Also, 40% of the food that our country produces is wasted. So, food wastage in India is an add-on to the mess. The situation is in front of us and we just need to be practical to share a meal with someone because sharing is everything.
Taking the humanity curve in an upward direction, 'khaana Chahiye', is a citizen-led initiative in Mumbai city, co-founded by Ruben Mascarenhas, Pathik Muni, Shishir Joshi, Neeti Goel, Rakesh Singh, KK Mookhey, Swaraj Shetty and Anik Gadia along with their hundreds of volunteers who are working deliberately in distributing free meals in this Covid-19 times. Khaana Chahiye initiative started during the first lockdown phase on 29th March 2020 with around 1200 meals. Since then it escalated to 45 lakhs meals as of 13th July 2020. Months into the national lockdown- companies, organisations and individuals also lend a helping hand to Khaana Chahiye campaign in providing free meals in Mumbai because they witnessed hunger in the financial capital has grown sharply and continues to grow. Around 6 million people live in Mumbai slums, on pavements and under flyovers, the lockdown during the Covid-19 pandemic made it harder for them to get food for themselves.
Kamathipura area in Mumbai is roughly 14 lanes and with the different age group of sex workers and their children with multi-linguistic backgrounds. Most of the sex workers came from other Indian states and from neighbouring countries like Nepal and Bangladesh who use to earn money daily in exchange of sex work were the worst hit by the lockdown in terms of money, health and spending their savings to survive the lockdown. It is a rare thing where a trans person has savings which back them even though they struggle a lot to earn each day to collect money for rent, food, health, etc. Lockdown just added more to their obstacle. HIV positive transperson complaint about the difficulty in accessing critical medicines. Most households, especially in urban and semi-urban areas across the country, depend on domestic workers for their daily cooking, cleaning, and caretaking needs. There is no current data to point towards the exact number of domestic workers in India but according to National Sample Survey (2012), 39 lakhs people are employed as domestic workers by private households, of which 26 lakh are female. But, with the lockdown in place, as these women cannot make it to work anymore, the employers are wasting no time in making them feel dispensable. Many such workers have lost their jobs, several have received pay cuts for their salaries, or no salaries and few are still being compelled to work. According to the government's own statistics, about 2 lakh migrant workers have been affected by the lockdown—the figure is of those who tried to return to their home base. More than 80,000 of these are construction workers of which 25,000 in Mumbai and 11,000 in Thane who was depended on street food, rent homes and daily earnings. Several rickshaw drivers, taxi drivers and truck drivers were stuck in Mumbai, sitting idle with no work made them frustrated to leave the city as there was no clarity on the situation. During the lockdown, persons with disabilities would require guidance to navigate to the hospital, medical stores or places to fetch essential commodities. The novel coronavirus is a shape-shifting threat. But one thing the past months have made clear is that the elderly and children are more at risk, which makes old age homes and orphanages vulnerable.
The problems do not stop there as donations were not been coming in, caregivers and volunteers haven't been able to turn up, medical teams have skipped visits, expenses have gone up because supplies had to be stocked, and getting vehicle passes for those carrying supplies was a task.
Looking at the difficulties these marginalized people were facing, Khaana Chahiye supplied 45 lakhs cooked meals for them and still do so on a regular basis.
Khaana Chahiye served meals to migrant workers going back to their homes serving food to 275 plus shramik trains and through road relief points. Being a completely citizen-led initiative, the team plotted 'Hunger Map', and linked it to restaurants kitchens in Mumbai, making it easy for teams to target the right places. Also, they ensure that the food is hygienic, nutritious and sufficient enough for a day. With the help of sponsors, well-wishers, volunteers, donors, corporates they manage to give away 10 lakhs Parle G biscuits, dry rations to the needy. In gratitude, the team also reached various police stations across Mumbai with food items. There is a rap song dedicated to the work of khaana Chahiye as 'Khaana Chahiye' by EMC Justice. They also covered Western and Eastern Highways, SV Road and LBS Road which are connected to Mumbai in distributing meals. The team gives utmost priority to the safety of their ground volunteers during the pandemic and they have strict processes to follow when working on the field.
Pathik Muni, co-founder of Khaana Chahiye says "The last 4 months have given us insights about marginalised communities, some of which have no sight of income for at least 6 months from now. We have continued our support to the absolute marginalised like transgenders during this difficult time by providing ration support for the next few months".
Khaana Chahiye is a selfless movement backed by all sections of people in Mumbai including celebrities, corporates and mainly by common people. Various citizen-led groups have contributed in fundraising through art for Khaana Chahiye – art care project, the apni public project, the cover project and others.
I'm delighted to know about this noble cause.
I urge everyone who is reading this to please donate to Khaanachahiye.com, share about this initiative to anyone you know who is in need of food or even volunteer with them in doing such a commendable social work.
-Ali Nawaz