In the previous posts which can be viewed here and here, we travelled through the Indian LGBT community's struggle towards equality and freedom. In some respects, there have been significant gains. The NALSA decision and the Navtej Johar decision unequivocally recognise non-cisgender heterosexual communities in India. However, they have not translated into enforceable rights and laws. In this article, we take a look at the many areas where Indian law is silent at best, and discriminatory at the worst.
Missing pieces of the puzzle
There is much that needs to be done to advance the struggle for queer freedom and queer equality in India. Only the corner of the surface has been scratched, and only a small set of rights has emerged from mere recognition of identities. Some of these are described below:
a) Right to marry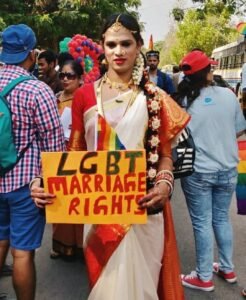 Many civil rights are still denied to LGBT citizens of this country. While they themselves may have begun to be recognised, the unions between members of the LGBT community are still not legally valid, as a matter of policy. These couples have found success by appealing to judicial authorities, and relief has been granted on a case-to-case. However, this is hardly equal to the manner in which cisgender heterosexual persons' unions are celebrated. The lack of legal recognition to LGBT unions and marriage has not deterred any couples, and the courts do recognise these unions.
After the decriminalisation of homosexuality in 2009 (Naz Foundation decision), a Gurgaon court granted police protection to a same-sex couple in Haryana in 2011, as they were facing threats to their lives. The Madras High Court ordered the legal recognition of a marriage between a Hindu transgender woman with a Hindu cisgender man, under the Hindu Marriage Act. In January 2020, a gay couple from Kerala decided to challenge the heteronormativity found in marriage laws in India, which is violative of the rights of LGBT couples to be treated with dignity, afforded naturally to any cisgender heterosexual couple. A June 2020 decision of the Uttarakhand High Court lends a degree of protection to same-sex cohabitation, while maintaining that same-sex marriage is not legal yet in India.
b) Right to have children
Artificial Reproductive Technology provides a great way for some LGBT couples to have children of their own. However, the Assisted Reproductive Technology Bill, 2013 specifically prohibits homosexual persons from utilising any medical interventions to raise a baby. The Surrogacy (Regulation) Bill, 2019 prohibits members of the LGBT community and unmarried persons from utilising this method of conceiving a child. The law regarding adoption is muddy at best. LGBT individuals are not allowed to adopt children, but the law does not prohibit them either. Since LGBT couples are not recognised by law, there is no question of their right to adopt; they have no such right.
c) Employment
The 2014 NALSA directive of providing reservation for the transgender community in public employment has not been implemented yet. In 2017, K. Prithika Yashini became the first transgender woman police officer in Tamil Nadu, after quite a legal battle against the Tamil Nadu Uniform Services Recruitment Board, which were accepting applications only from male and female candidates. The 2020 Act prohibits discrimination against transgender persons in employment, however this provision is toothless without allied changes in law and nomenclature.
Far from conscious efforts to mainstream any LGBT community, most private workplaces do not have LGBT inclusive anti-discrimination, and employment HR policies. The Sexual Harassment of Women at Workplace (Prevention, Prohibition and Redressal) Act, 2013 is clear that a victim can only be a woman. It leaves many individuals of the LGBT spectrum unprotected in their places of employment. We have already seen how transgender persons are legally protected from sexual abuse at a lower degree than cisgender women.
d) Inheritance
Most inheritance laws in India depend on marriage and are gender-specific. The framework of personal laws governing inheritance in India is gender-specific. This effectively excludes all non-binary genders. So, for members of the LGBT community to be eligible for family inheritance, same-sex marriages, and the right to bear children, apart from gender-neutral nomenclature have to be applied. Courts have recognised the inheritance systems followed in hijra custom (refer to Sweety case mentioned previously). However, as a policy, it is evident from the Transgender Persons (Protection of Rights) Act, 2020 that non-biological families have no legal validity in India.
e) Social protection
According to Humsafar Trust, 2 in 5 LGBT persons had faced blackmail, or known someone who was a victim of blackmail, since the Suresh Koushal judgement. Suicide attempts are common, for the lack of their equality as citizens of the nation. Despite international and national acknowledgements that deviations from heteronormativity and cisgenderism is not a disease or a condition to be treated, measures such as corrective rape and conversion therapy etc. continue to be practiced on members of the LGBT community.
It is ironic that in an average Indian social setting, transgender women are either seen blessing auspicious Hindu events such as weddings or the birth of new babies, or employing begging as their livelihood, and being harassed by policemen either on the streets or in the ghettos they are forced to live in. The Union Ministry of Drinking Water and Sanitation issued recommendations to the Swacch Bharat Mission (Gramin) to include provision of toilets for the transgender community. There has been nominal mention of separate transgender toilet seats in the 2017 Guidelines for Swacch Bharat Mission (Urban). The Madras High Court directed the Tamil Nadu government to construct public toilets for transgender persons in areas where their population is higher.
Despite the commonalities between the anti-caste movement and the LGBT movement, caste discrimination is prevalent among the LGBT community. Both communities face oppression and discrimination by state and society. However, queer communities are not only discriminated by the hetero-normative society but also by the society they come from, through caste. The current system envisaged by the Supreme Court in the NALSA judgement actively promotes caste-discrimination. It pits a Savarna transgender person against Dalit or Adivasi transgender persons for the same public education or employment, by providing blanket reservation to all transgender persons. However, the ground reality is that caste permeates all other identities in India, include gender and sexual identities. The advancement of queer rights must not exclude the caste movement. This intersection of gender, sexuality and caste requires specific attention.
There have been offshoots of social acceptance that some transgender persons have received in India. Shabnam Mausi is the first transgender Indian to be elected as an MLA from Madhya Pradesh during the term 1998-2003. Independent candidate and a transgender woman, Madhu Bai Kinnar defeated BJP, to be elected as the mayor of Raigarh in 2015. Manabi Bandopadhyay, the principal of Krishnagar Women's College in West Bengal is India's first transgender college principal. Joyita Mondal broke several glass ceilings as the India's first transgender judge. She was appointed as a judge in Islampur Lok Adalat in 2017. The Election Commission has appointed transgender activist Gauri Sawant as its goodwill ambassador in Maharashtra. Following the legal recognition of the transgender community and subsequent decriminalisation, the general elections in 2019 saw increased participation and attempts at representation from the LGBT community who were contesting on party tickets, or as independent candidates.
f) Intersex rights in India
There is no estimate of the number of intersex individuals in India, as this gender identity is not considered in any official census. Intersex babies born with ambiguous sexual organs or chromosomal or hormonal variations are killed at birth, abandoned, or are subjected to medically unnecessary, often irreversible, interventions that may have lifelong consequences for their physical and mental health, including irreversible termination of all or some of their reproductive and sexual capacity. With India's legacy of female infanticide, there are no prizes for guessing which sex parents prefer their intersex babies to be surgically morphed into.
As a community, intersex persons are oft-neglected, or at best, are erroneously identified as transgender persons, which fails to shed light on the specific needs of this community. One of these is a specific attention to 'corrective' surgery, performed on unsuspecting intersex babies, according to the wishes of the parents. In the 2019 decision in Arun Kumar v. Inspector General of Registration, the Madras High Court took cognizance of Sex-Reassignment Surgeries of intersex infants. The Court denied parental consent in corrective surgeries on infants, and directed the Tamil Nadu government to issue orders to ban such surgeries on intersex babies.
The variation in the biological features of an intersex person has been a bone of contention in organised sporting events.  The stories of Caster Semenya, Santhi Soundarajan, Dutee Chand, and Pinki Pramanik occurred because sporting authorities considered themselves above norms of human rights standards, especially in women who were not considered feminine enough due to higher production of male hormone testosterone.
Intersex activism finds nominal voice in mainstream India. Gopi Shankar Madurai was India's first intersex and genderqueer who contested for a seat in the 2016 Tamil Nadu Legislative Assembly Election. More recently, Dalit intersex activist Chinju Aswathy contested from Ernakulam in the 2019 general elections. Neither of them won the vote.
Way forward
There will be many naysayers in the process of shedding patriarchal, regressive and discriminatory attitudes and practices. However, all is not lost. The struggle for queer freedom is moving at snail's pace, but is at least, moving! A 2017 resource material prepared for adolescent kids in schools by the Health Ministry acknowledges same-sex attraction. It informs children that it is a normal emotion, and that relationships should be based on mutual consent, trust, transparency and respect.
LGBT rights are not something which affects only the community. Each individual, regardless of whether they subscribe to any of the identities under the LGBTQ umbrella, needs to demand that their autonomy and right to self-determination be legally protected. LGBT rights are human rights.
Written by : Mandakini